"Too much of anything is bad, but too much good whiskey is barely enough." This might have been said in jest, but the idea has lent itself to examination for several millennia.
Chanakya, a strategic advisor to the largest Indian kingdom of the 2nd century BC, observed that too much of anything is poison. This applies to power, wealth, hunger, ego, greed, laziness, love, ambition, hate, or any other state of mind. And ostensibly, even to whiskey!
Chanakya's observations
Chanakya went on to observe that acceptance is a huge antidote for negative emotions. Fear, for example, arises from an unacceptance of uncertainty. Acceptance of it makes the same task an adventure!
Likewise, envy is the unacceptance of good in others. But acceptance of the good makes their actions inspirational.
Anger arises from the unacceptance of what is beyond our control and switching over to the acceptance of that breeds tolerance under the same circumstances.
And to labor the point one more time, hatred is the simple unacceptance of people while love is the unconditional acceptance of them.
While anyone's personal experience will readily attest to these truths, do they present a recipe for an ideal approach to life? Perhaps yes. But first, let us explore what Gautam Buddha, an awakened Indian Prince, discovered through meditation, two centuries before Chanakya.
Gautama's observations
Buddha proclaimed that there is suffering in the world, and that is non-negotiable. However, there are three types of suffering. The first is the suffering of existential issues, such as pain, disease, death, and the stuff we encounter physically on a regular basis.
The second is the suffering of change, which implies that even when we do get what we want, we can't hold onto it. It is just a matter of time that we lose interest in it. For instance, even a chocolate aficionado might not be particularly excited to eat the 50th bar of chocolate in one sitting.
And finally, is the all-pervasive suffering, which, though to recognize, is extremely instructive. It is the underlying anxiety and insecurity we perceive in even our happiest moments… because deep down we know that everything is impermanent.
And this brings us to the door of mindfulness. Of remembering who we are and what life essentially is about. Awareness and Acceptance… two A-words with which to live life.
Sandeep's observations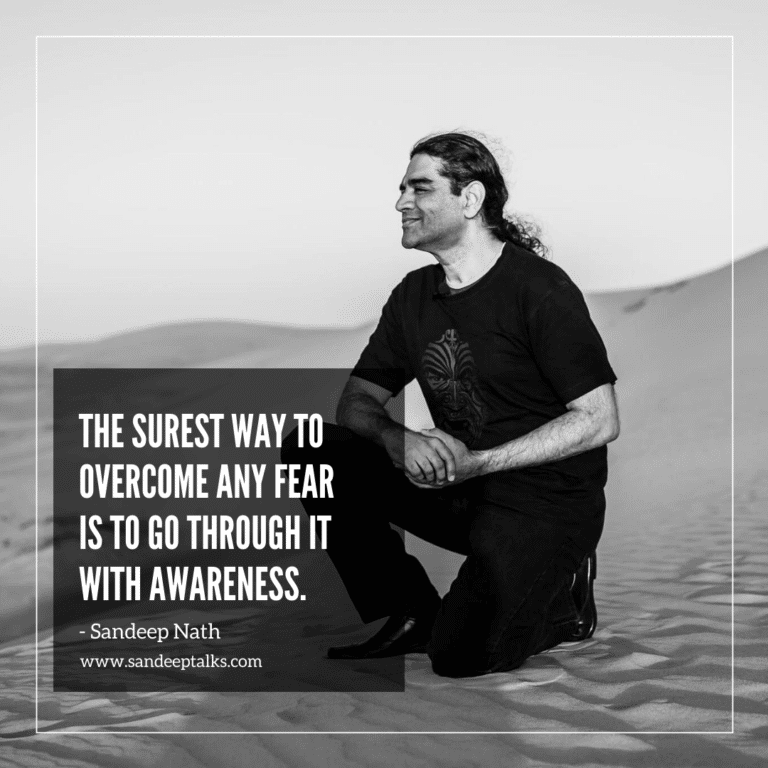 Too much of anything is NOT bad. When we have a little, we get busy exploring it. Enjoying it. A little anger, at the level of being critical or skeptical, can feel good. It tells our ego that we have a contrary point of view and intelligence to have it. A little fear can strengthen our mental muscles and enable us to build capacity. The problem starts when our ego becomes active in chasing the emotion and we forget to stay Aware of its root cause.
When we do stay aware of the root of our anger being 'things we cannot control', more of those very things can nourish us with tolerance. The Dalai Lama is not angry with the Chinese regime for he says they are his teachers of tolerance. He has Accepted their ruthless actions against his country and countrymen. In doing so, the Tibetans have established their presence globally. And they have spread their Buddhist philosophy farther than the Incas, Maoris, Egyptians, or even the Daoists ever could!
Good surfers wait for waves to rise before they ride them. Similarly, we too must allow the causative factors that beckon our emotions to rise till they ripen, and then, convert them to other emotions to ride upon. We must experience suffering to see the contrary aspect of it. Experience impermanence to value to present moment. Experience too much to understand its futility.
For real personal growth, we must become observers, watching the emotions as they arise in real-time – with Awareness; without getting entangled in the drama – knowing that we have it in us to Accept their root cause. Resistance creates stress and defeats us. Acceptance dissolves stress and makes us grow.